Angelina Jolie has sparked pregnancy reports after her cleavage photo was snapped at a previous awards night.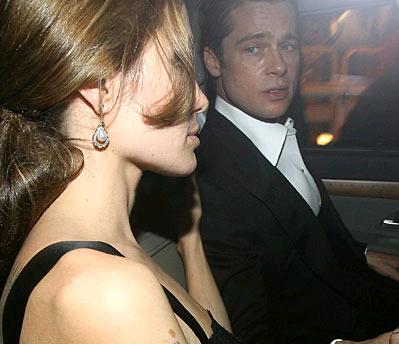 Fans and observers look hard for that baby bump and to check her cleavage to see if either has a hint of her alleged pregnancy, which you could see her recent pictures here.
Earlier hints were made, after Brad Pitt "was having a conversation with a woman involved in the project," according to a source, which is close to the couple.
The source continued, "Angie was also there. The woman was talking to them about the importance of family and asked them jokingly if they'd want to adopt a few more kids. Brad put his hand up and said, 'Well, we're trying to expand our family. We'd like to have another baby!' He was implying they were going to have a child the old-fashioned way."
The source also revealed that the 32-yar-old actress has started putting weight to ensure she has a healthy pregnancy, saying, "Her doctor told her she needs to gain 12 pounds, so that's exactly what she's doing. She's eating lots of fatty foods. She eats eggs, sausage and bacon for breakfast; she eats a lot of pizza; she even has McDonald's with the kids."
Angelina Jolie fuels more pregnancy reports when she was sporting a big, voluminous, figure-concealing dress to SAG awards.
The "Good Shepherd" actress wore a strapless ombre number that appeared to be billowing and expansive. Her dress has a long train and she's actually carrying it until Brad Pitt accidentally stepped on it and almost yanked it right off.
Comments
comments