Angelina Jolie is furious that partner Brad Pitt is back in contact with his former wife Jennifer Aniston — so she's been hooking up with her former husband, Billy Bob Thornton!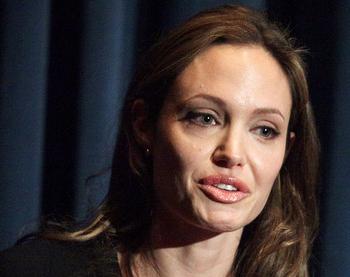 Amid claims Pitt and Aniston liaised at a New York hotel, the Changeling actress has apparently been having "steamy sessions" with Thornton, who she divorced in 2003 after three years of marriage.
"Angelina was beside herself with rage over Brad's latest date with Jen, which left her humiliated and feeling like a laughing stock," an insider told American tabloid the National Enquirer. "She has been giving Brad a dose of his own medicine by getting hot and heavy with Billy Bob.
"Brad recently walked in on Angie, [email protected] in the bathtub, drinking wine and in deep intimate conversation with Billy Bob on the phone!
"That was the last straw for Brad. And worse still, when he asked Angie to hang up because he needed to talk to her about something important regarding one of their kids, she completely ignored him and kept on talking to Billy Bob for another half hour. Brad was ticked!"
Jolie and Thornton apparently speak on a regular basis. And, when they do, they "talk for hour after hour about the old days, turning each other on with the sizzling reminders of the great sex life they had together, how much she misses him — and how bored she is with Brad's mind mind games."
"It drives Brad nuts that Angie is still talking to Billy Bob," the source adds. "By meeting up again with Jennifer behind her back, Brad has started a full-scale war with Angelina.
"She's determined to get even with Brad for his insensitive behavior — and sees her relationship with Billy Bob as the perfect revenge. "
Comments
comments