David Archuleta posed for the cover of Seventeen magazine for its Malaysia edition.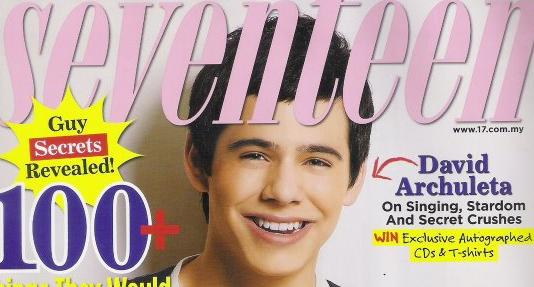 The magazine cited: "He may be little, but there's surely nothing small about his talent. David archuleta's deep dimples, infectious smile and of course amazing voice has us wanting to just touch his hand!"
Here are the highlights of his interview:
On his feeling that they called out Cook's name and not yours? "I was actually totally fine. People ask me: ' weren't you upset? and I just wasn't! I was always rooting the other contestants on, in fact more so than for myself 'cuz I didn't even think that I would be there for very long. It never felt like a competition, other than to myself. I always made sure I did my best and presented myself well."
On his thought that he was not going to go far, "Yeah, I didn't even think I would get to the top 24 or Hollywood week for that matter."
After Kelly Clarkson gave you a 'Wow!' Didn't you feel confident with your voice? "No! No, no, no, no, no, no (almost in scale)"
So has that changed? "I've accepted the fact that people enjoyed my music."
On the toughest week on American Idol, "There were a few weeks that were pretty tough, because I was sick and I had lost my voice. Top 3 week was especially rough, just because I had to learn three songs! I had six song selections that I wanted to do and I could not do any of them because we couldn't get it cleared or worked out. It was so hard just to find a song but I HAD TO PICK A SONG."
On other interesting stuff happens behind the cameras, "Well, it's not particularly exciting, but for me, I actually spent a lot of time in a classroom. The interesting thing was that actually on the other side of the hall was where they did hair and makeup for other shows, like Dancing with the Stars. So, I was always running into them. Also, usually the dressing room for the celebrities that came on American Idol, were just across from my classroon! I had the best seat in the house because no one else was allowed to go there, but I had to!
On ever like sneak peek and walk across, "Nah, I never really did that 'cuz people like to be left alone, as they never actually get left alone. I could understand that."
On ever gotten starstruck, "Yeah, I did! But I never wanted to say anything to them because [laughs nervously] I didn't want to look stupid in front of them. Plus, I felt like a nobody compared to them"
On his feeling that his first album's more of a test subject, "Oh yeah! Definitely! I had no idea what I wanted to do. I knew I wanted to do pop, like soulful pop but I didn't know how I wanted to do that. So this is a very experimental album.
You've got tons of girls going crazy for you. Was it the same before? "No, I wasn't this chick-magnet-hunk person. I'm still not!"
On what he is like around the girls, "I'm pretty calm and collected. I don't get too shy or anything."
On the kind of girls he usually fall for, "I'm definitely a girl-next-door kind of guy. I mean not actually the girl NEXT door, but you know, the girls-next-door kind of girls… you know."
On having told any of them about his feelings, "No! It makes things awkward! I'm just not that kind of person either.It's always been weird when people told me! You sort of just go 'oh!,' 'cuz you don't feel the same way."