Are there problems because of a New Moon movie crush on Robert Pattison by co-star Nikki Reed?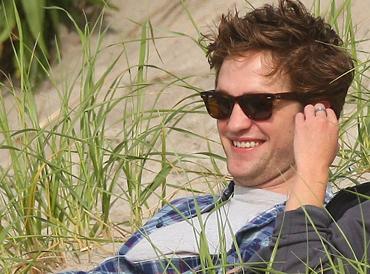 Robert is now reported to be with Kristen Stewart, a BFF for Nikki (another New Moon and Twilight co-star) but all that has caused a rift for the once solid Nikki and Kristen, Life & Style reports. Rob and Kristen's hookup has devastated their co-star Nikki Reed, the mag claims in a story this week. The Twilight and New Moon gang affectionately referred to their movie shoots as "vampire camp".
Whether jamming in one another's hotel rooms or taking in one of costar Jackson Rathbone's concerts, the gang did everything together. But not anymore, the item teases.
The magazine points out the way it used to be – "The cast often speaks of being a tight knit clan, but Kristen and Nikki grew the closest on and off set. They were constantly spotted dining, shopping and seeing concerts together between filming.
"If it weren't for Kristen, this [experience] would have been a lot more overwhelming," Nikki said. "But Kristen and I are best friends." But the claim is that then Rob got in the middle and Nikki lost her big crush, Rob . While Robert showed interest in both Kristen and Nikki when Twilight first started filming, he ditched Nikki, whom he'd hooked up with at least twice, as soon as Kristen opened up to his advances. Can the three friends ever be the same?
Comments
comments