Angelina Jolie, who was previously seen showing off her sexy form at Critics' Choice Awards, was seen out with a new gold band on her left hand.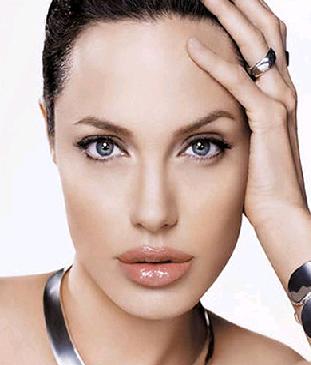 The "Good Shepherd" actress was careful to wear the gold ring on her middle, not her ring finger. The ring was a gift from Brad for the holidays. According to a source, the actress "was stressed… so Brad gave her the ring a week before Christmas to lift her spirits."
Brad Pitt's "Oceans" co-stars Don Cheadle and George Clooney made quips on the red carpet of the People's Choice Awards about the rumored Brad Pitt museum that turned out to be a joke. Don Cheadle quipped, "I would run tours. I would allow myself to be ensconced in wax. I would do whatever it takes to see that the Brad Pitt museum is a 100% success."
George Clooney revealed, "I'd pay a good $4.50 to go to that museum." On whether Pitt was behind the boycott of the Golden Globes, which are not going to happen this year due to the writer's strike, the actor said, "I certainly don't call people up and say do anything. I follow my own instincts on those kinds of things."
Meanwhile, Brangelina are claimed to be ready to add a 5th child to their clan. This time they are going to try for another biological child and they want to do this before Shiloh gets much older.
A family friend said that Angie isn't having as easy a time conceiving this time. There is speculation that it could be because of the dramatic weight loss that she experienced when her mother, Marcheline Bertrand, passed away last year.
Comments
comments