Angelina Jolie wants to run for president of the US.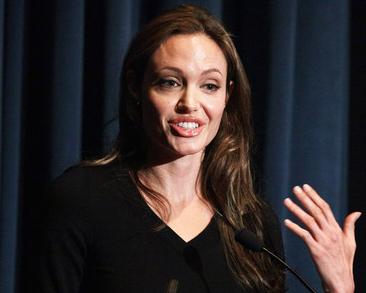 The "Changeling" actress is so "stirred" by her humanitarian work for the United Nations, she is reportedly planning to get into politics.
A friend revealed: "Angelina has admitted she's getting bored with Hollywood. She said she's now got her sights set on Washington."
The friend continued: "She is passionate about people's rights, war and justice and thinks she can get more hands-on and make even more of a difference by getting into politics. She admires President Barack Obama and thinks she could make a big difference too if she were in his position."
The 34-year-old actress, who raises six children, Maddox, seven, Pax, five, Zahara, four, Shiloh, three, and 11-month-old twins Vivienne and Knox with partner Brad Pitt, has now set her sights on becoming the first woman in the White House.
The friend added: "I would place a huge wager on her becoming the first female president within the next 20 years. When Angelina sets her mind on something, she goes all out to do it. She's very determined and gets very stirred by her UN work. She is well respected for her humanitarian work and I'm sure she would make as many waves if she moved fully into the political world."
Meanwhile, Angelina called the never-ending birthday party phenomenon she experiences with partner Brad Pitt "one of the great pleasures in life."
She said: "I do have the twins, and I just had Shi in May. We have so many kids that we just have year-round birthdays. It's a lot of fun now 'cause the older kids are old enough to help plan the birthdays for the younger kids."
She noted that some of her six children are from countries that have seen conflict as she added: "I usually just explain to them that there are other families in the world that aren't as fortunate as ours and other kids," Angelina, 34, said. "And so I tell them that it's important for all of us to do what we can and then go to these places and understand what's happening."
Comments
comments