Emma Watson has magically transformed from Harry Potter's precocious overachiever to a full-blown glamor girl in the August 2009 issue of Teen Vogue. Now the sassy star dishes on Harry Potter, paparazzi, and college.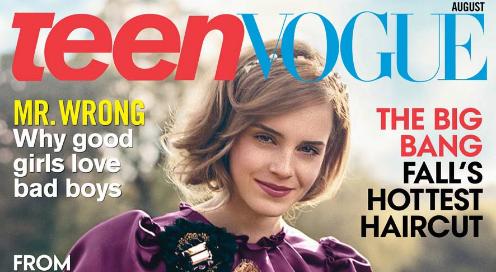 Here are the highlights of her interview:
On acting in the future: "There's not, like, a burning passion in me that I have to act and I don't care what I do. Until something comes along that I feel as strongly about as I did Hermione—like, I felt that it was life or death—I don't want to act again."
On her personal style: "I'm young, so I'm still experimenting. But I think [my style] is quite British and very much about individuality."
On boyfriend Jay Barrymore: "The only reason it's 'on/off' is because the papers make up so much rubbish!"
On the paparazzi: "[At my eighteenth birthday party] they laid down on the pavement and took pictures up my skirt. Now I'm going to wear cycling shorts whenever I get out of cars."
On taking fashion risks: "There's nothing interesting about looking perfect—you lose the point. You want what you're wearing to say something about you, about who you are."
On her on-screen romance in The Half-Blood Prince: "At the beginning, it looks like [Hermione and Ron are] on their way to finally being together, but of course Ron screws it up. So she's jealous, and doesn't quite realize it, and they have all these arguments."
On making the decision to attend college: "I've been saying that I wanted to go to university since I was eleven, so if they didn't let me, I'd be pretty upset. I just want to keep it private [my university choice] for as long as I can. I probably sound like a paranoid nut, but I'm doing this because I want to be normal. I really want anonymity. I want to do it properly, like everyone else. As long as I don't walk in, and see, like, Harry Potter posters everywhere, I'll be fine."
For the complete story pick up the August 2009 issue of Teen Vogue, on newsstands July 1!
Comments
comments