Angelina Jolie ditched glamorous dresses in favor of office attire as she prepared for an upcoming movie in New York.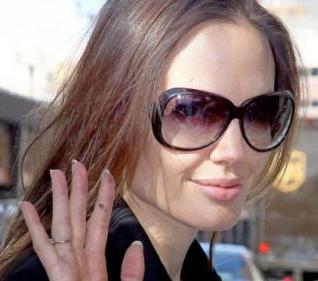 Accompanied by at least three beefy minders, the actress was spotted scouting for an apartment in New York's Upper West Side.
Some sources reported the 33-year-old star was looking for the perfect location for a future film, while others speculated she wanted a city base for herself and partner Brad Pitt.
The Jolie-Pitt family have already chosen a Long Island mansion to rent when the star films the upcoming flick Edwin A. Salt, but could be looking for a second place closer to the set.
Industry insiders have reported the movie features a scene in which CIA agent Angelina goes undercover as a man.
But there was no sign of mannish attire yesterday as Angelina Jolie pounded the pavement in the Big Apple.
The mother-of-six was dressed in a serious-looking black trenchcoat, knee-high suede boots and her usual over-sized sunglasses.
The "Changeling" star also appeared to have shed every inch of her baby weight, and looked particularly slim next to her bodyguards.
Angelina and Brad are reportedly planning to introduce a seventh child to their brood, and have spoken with officials in Cambodia about adopting a little boy.
Comments
comments