Suri Cruise has certainly showed that being the daughter of one of Hollywood's most well paid actors certainly has its perks.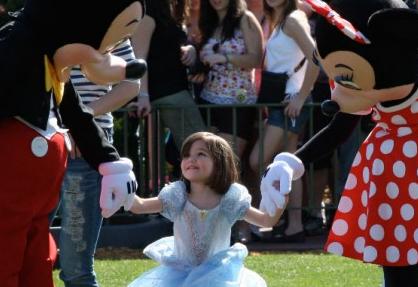 And the adorable toddler was enjoying the benefits of it during a family trip to Walt Disney World in Florida.
The two-year-old, who was dressed as a princess for the occasion, looked to be having a magical time as she was treated to a very personal meet and greet with her heroes Mickey and Minnie Mouse while her doting parents Tom Cruise, 46, and Katie Holmes, 30, looked on.
The Cruise family skipped the queues at the theme park and spent time with a number of characters including Cinderella – much to Suri's delight.
The toddler, who has become something of a fashionista despite her tender years, looked adorable in a blue ball gown and bare feet and was all smiles during the trip which was a Valentines day surprise for her and her mother from film star Tom.
The actor revealed: "(I like) doing romantic things, such as bringing flowers and surprising her with things. I love candlelit evenings with nice music. I feel lucky to have Kate as my wife. She's an extraordinary woman. She is funny and smart and she likes the same things that I do."
He also commented on his daughter's style icon status and admitted that he is 'flattered' that the public have become influenced by her wardrobe, saying: "It's very flattering that people want to copy Suri's clothes and the way she dresses. It does feel strange but you have to kind of go 'it is what it is.' Of course we all think our children are incredible and I feel that way about all three of our kids."
The family recently enjoyed a five-day break in Brazil together while Cruise promoted his latest movie Valkyrie.
Comments
comments