Angelina Jolie has called on Thailand's government to give more freedom to tens of thousands of Burmese refugees it has kept locked inside camps for up to 20 years.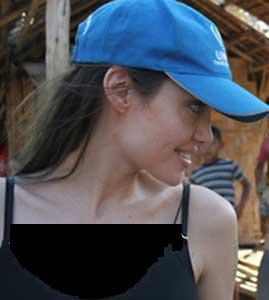 The "Challenging" actress and goodwill ambassador for the U.N. Refugee Agency visited Thailand's Ban Mai Nai Soi refugee center Wednesday.
She was quoted as saying by UNHCR in a statement released Thursday: "I was saddened to meet a 21-year-old woman who was born in a refugee camp, who has never even been out of the camp and is now raising her own child in a camp."
She asked Thai authorities to give around 110,000 refugees in northern Thailand greater freedom to move around and seek higher education, because they are unlikely to be welcomed back anytime soon to Myanmar, also known as Burma.
Myanmar's military junta has been accused of gross atrocities against ethnic minorities, forcing thousands to flee to neighboring countries.
Angelina Jolie, 33, sat down in a two-room house on stilts and talked with a female refugee. She then met orphans at a boarding school and heard from teenage girls worried that they might be sent back to Myanmar.
She added: "I hope we can work with the Thai authorities to speed up the government admissions process and that you will not be forced to go back to Burma if danger remains."
UNHCR says Thailand has yet to give refugee status to 5,000 Burmese that fled to Thailand in 2006-2007, when there was significant fighting across the border in Myanmar's Kayah state.
Her visit comes amid an uptick in the arrival of migrants from Myanmar, who often travel on rickety vessels to escape violence or harm.
Comments
comments