The recession doesn't seem to be fazing Hugh Hefner's ex Holly Madison.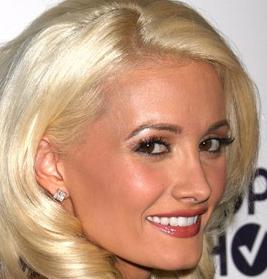 The blonde beauty recently resigned from her post as Playboy magazine's first ever "Playmate Editor," saying that the job wasn't worth her commute to Vegas, where she lives with her new man, beau Criss Angel.
She wrote on her MySpace blog: "One: I moved to Vegas and that job doesn't pay enough to make a commute worthwhile. I never cared about the salary when I got the job. I made my money doing Girls Next Door, and I did the job because I loved it."
Madison, 29, also said that she "no longer found it challenging" and working with her ex Hugh Hefner was "awkward."
She split with Hefner last fall amid rumors that she wanted to get married and have children. She has been dating Angel since last October.
She added: "When one is trying to move on with their life, it isn't beneficial to spend so much time on something that doesn't pay much and, sadly enough, is no longer rewarding to you. But I loved my job while I had it, appreciate the opportunity and the experience greatly, and wish whoever takes my place the best."
Comments
comments