Angelina Jolie was spotted out on the town in New Orleans and she was partying it up at what they classify as a "dive bar."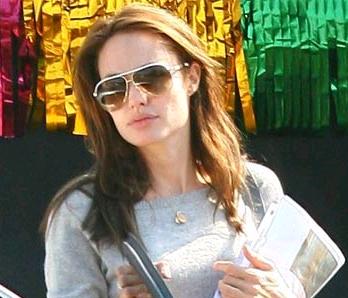 Grace, a bartender who worked in "The Abbey", revealed that the group "had more than a few drinks."
The story notes that the bar is in New Orleans' French Quarter. A witness pointed out that the "Good Shepherd" actress flirted with her bodyguard Francis and Brad was nowhere to be seen.
One patron, who saw Angelina out with Francis and a "group of friends" in early December, revealed, "She was giggling like a schoolgirl and kept touching his arm and laughing at everything he said."
The report claims that the friends who the actress has been spending time with — she hangs out with her bodyguards and speaks with her ex-husbands, Billy Bob Thornton and Jonny Lee Miller — are almost exclusively male, which bothers Brad, 44, too.
"Their roles are somewhat reversed," a friend of the couple remarks. "Brad is the stay-at-home mom caring for the children, while Angelina is the dad who goes out drinking with the boys."
A pal added, "He would spend every waking moment with Angelina, but she apparently does not feel the same. He invites her everywhere he's going, but she doesn't return the favor."
Comments
comments