Brad Pitt and Angelina Jolie have been struggling to keep their cool on the red carpet reports claim and the question remains why is Brad Pitt became so angry. According to a report, the pressure of his personal life seems to be making him a bit cranky lately. In the New York premiere of his recent film, the actor became irritable on the red carpet.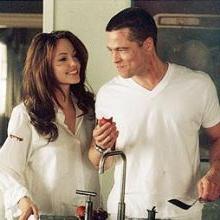 When a producer for MTV asked him, "What did you learn from doing this movie?" Brad Pitt coldly answered, "I didn't learn (expletive) really." However, the actor was more open about his less-than-positive feelings after two days.
As for his role of Jesse James tapped into an unexplained sadness that he's known all his life, he revealed, "I call it congenital sadness. It's nothing on the surface."
For Angelina Jolie's part, the actress hasn't seemed very supportive of Brad's blue mood. She revealed to Maddox, "It's Daddy being violent.", during the time the boy asked what Jesse James was about.
A source that claims that after dinner at Morton's The Steakhouse on September 8, the couple fought at their hotel. On September 18, Angie showed her annoyance with Brad again, during what was supposed to be a private dinner at Guastavino's restaurant in Manhattan.
According to a friend, Brad Pitt had arranged for a private, candlelit table in the back of the restaurant to be prepared for him and Angelina. But as soon as she walked in, according to a spectator, "she just rolled her eyes, like she thought it was really cheesy. They started bickering, and then just stopped talking and concentrated on the food."
Comments
comments