Angelina Jolie was in Namibia, pregnant for the first time and awaiting the birth of her child in April 2005.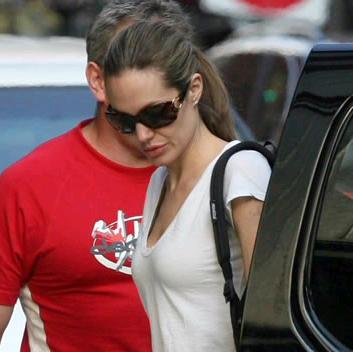 It was a period of enormous emotional upheaval, not only because of the imminent baby, but also because Angelina Jolie had invited Mariane Pearl to stay with her. And now here she was, huddled with Pearl, director Michael Winterbottom and producer Brad Pitt, all developing a movie version of Pearl's memoir, "A Mighty Heart," about her husband's abduction and death at the hands of terrorists.
The 32-year-old actress recalled, "It was hard having to make her talk about so much of it and watching her walk off to her tent, looking at her and realizing: This is a woman's memory of the worst time in her life. Watching her and watching (her late husband Daniel's) boy run around — it was very heavy, and we all grew up with it."
She added, "Of course there's a great responsibility. The heaviest pressure was really their son, knowing this little boy would one day see a representation of what his parents were like together."
Meanwhile, the "Mighty Heart" actress was the first celebrity targeted by Britney Spears paparazzi beau Adnan Ghalib, according to a report. The photographer has had a thing for Angelina Jolie. The immigrant surely has set his goals high.
Adnan Ghalib, who's married, zeroed in on Britney Spears after getting nowhere with Angelina, friends revealed to the magazine.
A friend revealed, "Angelina was definitely one his quests. He told me seriously: 'She's fond of me. She calls me Addy, and I'm the only photographer she's nice to."
But nothing developed with the actress, so 35-year-old photographer focused on Britney. A friend revealed, "Instead of just taking her picture, Adnan started talking to Britney and helping her. She was his chance to get the spotlight and make money. As far back as August, he was telling friends: 'Britney has a crush on me.' A few weeks later, he bragged that Britney told him he was cute. It took five carefully planned months for his campaign to succeed, but look at Adnan now. The paparazzi are chasing him!"