Zac Efron was released from Cedars Sinai on afternoon of January 18 after a health scare and rush to hospital to remove his appendix.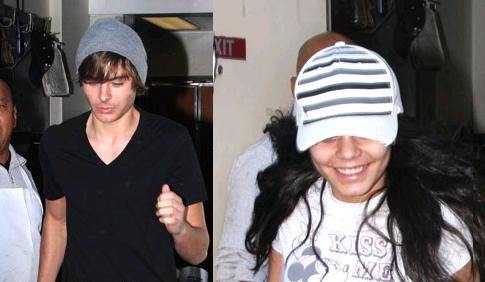 The "Hairspray" actor was spotted with his girlfriend Vanessa Hudgens as they bolted out the back door of Patty's restaurant in Toluca Lake together (with their friend Ashley Tisdale) just a few minutes ago.
He was even snapped making an OK sign, perhaps it is clear indication that is he is recovering well with a little help from his friends, both Vanessa Hudgens, his number one girlfriend and Ashley Tisdale, his number one other female friend.
Meanwhile, His girlfriend was asked how Zac Efron kisses. Vanessa Hudgens played it very cool and simply answered, "Mmm". Perhaps it means yes and he's pretty good at it. But his other female friend Ashley Tisdale revealed, "He's a good kisser." And what is Zac's favorite kiss? The actor revealed, "My favorite kisses happen when I've taken it nice and slow."