Is there trouble in Brangelina land? Angelina Jolie reportedly stormed Brad Pitt out of their house.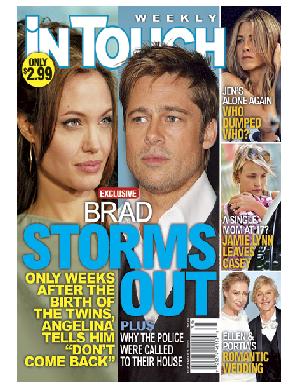 According to the report, Brad Pitt was allegedly kicked out of his French chateau following a row with Angelina Jolie. A magazine includes their scoop on why the police were called to Brangelina's house.
The Hollywood's golden couple, which graced the cover of In Touch Weekly magazine and recently welcomed twins in July, had supposedly been arguing because Angelina Jolie is struggling to cope with her growing brood.
A source revealed: "Angelina has been screaming at Brad over the tiniest things. She told Brad "not to come home."
The "Fight Club" star apparently spent the night alone at "U2" member Bono's house.
The representative for the celebrity couple have not commented on the claims.
Comments
comments