Angelina Jolie hangs from the side of a building as she scales its walls while filming a scene her latest spy flick, Salt, in uptown Manhattan on Thursday (March 12) in New York City.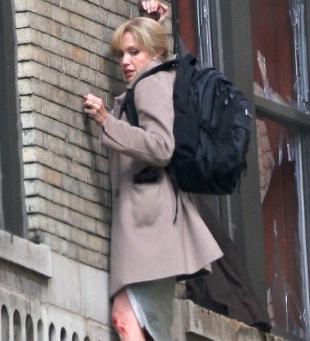 Earlier in the day, Angie's stunt double was spotted shooting the same scenes.
Directed by Phillip Noyce, Salt is expected to hit theaters in 2010.
Meanwhile, there is an inside scoop on a feud brewing over the couple's child care arrangements. According to their "sources" the couple has a deal, and Angelina is pissed because Brad broke the terms of this arrangement by recruiting his mom, Jane to help out with the kids while she's working on a new movie.
Angelina Jolie has nixed Brad Pitt's plan to move his mother into the $60 million estate they've rented on Long Island!
The Changeling star put the kibosh on Jane Pitt moving in to help with their kids because she felt it was too close for comfort, according to an insider.
The A-list couple have an agreement that while one of them works, the other looks after their six children, and Angelina – who's filming the spy thriller Salt – was incensed when Brad turned to his mom for help, said the source.
"Angelina feels Brad should be able to handle the kids on his own, and she saw his request for help as a cop-out," said the insider.
"She cared for the kids while Brad made his last film in Germany, so she feels it's his turn, and she told him to tell his mother they didn't need her help."
Jane and her husband live in Missouri, but she relocated to the south of France soon after Brad and Angie's twins, Vivienne and Knox, were born on July 12.
"What Angie says goes," the source divulged.