Angelina Jolie, who was reported long-simmering tension between her and Brad's mom, appeared to get along with Brad's parents.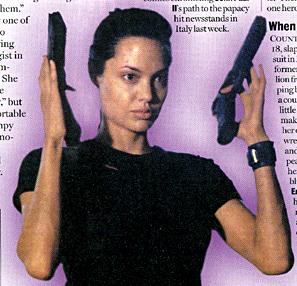 A recent Missouri trip of Brangelina with the kids made Jane and William Pitt happy, according to an insider. The insider also revealed, "Jane shared some of Brad's favorite recipes – pecan pie, green-bean-and mushroom-soup casserole and mac and cheese – with Angelina, who's learning to cook."
Meanwhile, the "Good Shepherd" actress is said to have upset Brad's sister in law, Julie, by sending her kids a violent video game "Ghost Squad" for Christmas.
According to a family insider, Julie and her husband Rob sent it back with a note that read, "We don't promote violence in our home." The insider also said that Julie and Rob "shun these kinds of violent games for kids." So when they got the present, it was just too much. It went right back in the box."
The insider added that the 32-year-old actress was not pleased, saying, "She was really angry. She thinks it's normal and part of being a kid. She even bought Maddox a knife-throwing set and is encouraging him to learn to throw knives!"
Comments
comments