Angelina Jolie enjoyed a girls' day out with her eldest daughters Zahara and Shiloh in New York yesterday.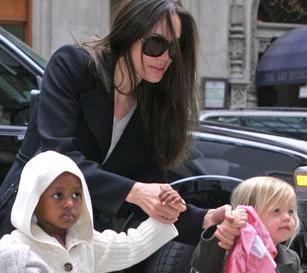 The mother of six left the rest of her brood at home with partner Brad Pitt for a spot of bonding with the toddlers, who dressed in matching leggings for the occasion.
Zahara, 4, rugged up in a cream cable-knit cardigan while Shiloh, 2, looked equally adorable in a green pea coat. Both wore carrying their favorite little security blankets.
It seems the family could be spending more time in the city than expected – Angelina was spotted scouting for an apartment in New York's Upper West Side a day earlier.
Some sources reported the 33-year-old was looking for the perfect location for a future film, while others speculated she wanted a city base for herself and Pitt.
The Jolie-Pitt family have already chosen a Long Island mansion to rent when the star films the upcoming flick Edwin A. Salt, but could be looking for a second place closer to the set.
Industry insiders have reported the movie features a scene in which CIA agent Angelina goes undercover as a man but there was no sign of mannish attire as Angelina pounded the pavement in the Big Apple.
Angelina and Brad are reportedly planning to introduce a seventh child to their brood, and have spoken with officials in Burma about adopting a little boy.
Comments
comments