Angelina Jolie is "absolutely sick" of Jennifer Aniston mentioning Brad Pitt's name in interviews.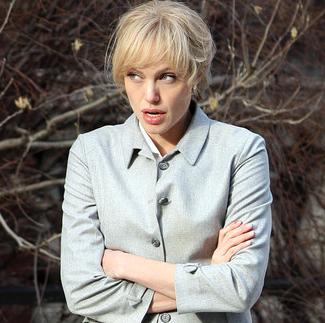 While promoting her new film "Marley & Me", Aniston, 40, declared her undying love for Brad Pitt, insisting: "There are no sides. There is no bad guy. There are no villains."
And Jolie, who raises six children with Pitt, is furious the former Friends actress keeps speaking about her former husband.
A source revealed: "Angelina is absolutely sick of Jennifer dragging up Brad's name in interviews. As far as she's concerned, it's just a pathetic attempt to cause trouble between her and Brad."
The source continued: "She sent Jen a message saying how would she like it if she leaked some of her dirty laundry from her marriage to Brad."
The source added: "Angie knows a lot about Jennifer – and some of it isn't pretty. Remember, Brad and Jen were married for almost 5-years and he's been pretty open with Angie about everything they got up to. He's told Angie all about Jen's annoying habits and her darkest secrets. It would be Jen's worst nightmare if this stuff got out, and Angie knows it!"
Comments
comments