Rihanna is "too ashamed" to be seen in public with Chris Brown.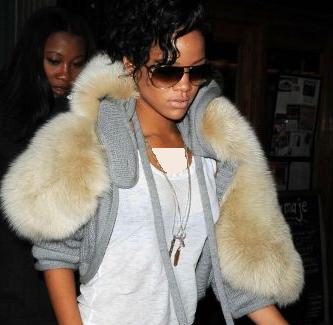 The "Umbrella" singer is believed to be concerned at the reaction she will get if she officially confirms she has rekindled her romance with Chris, who is accused of assaulting her last month.
She reportedly told a friend: "I'm too ashamed to go public yet."
A pal of the singer revealed: "Rihanna is worried about the response she'll receive when people see her out and about holding hands with Chris."
The pal added: "She still loves Chris very much and, although she's forgiven him privately, she's not prepared for the backlash from her fans."
Chris, 19, has been charged with felony assault and making criminal threats following the altercation.
Despite her worries, the 21-year-old singer is determined to shift the focus away from the alleged attack and back onto her career.
Referring to leaked pictures claiming to show Rihanna's facial injuries, the source said: "She will not be publicly commenting on the photo of her beaten up, her injuries or the case – she desperately wants the whole situation to go away.
The source added: "She understands fans are worried about her and genuinely appreciates all their love and support, but she just wants to forget about the incident with Chris."