Angelina Jolie has infuriated partner Brad Pitt — by gatecrashing his lads' trip to LA, according to reports.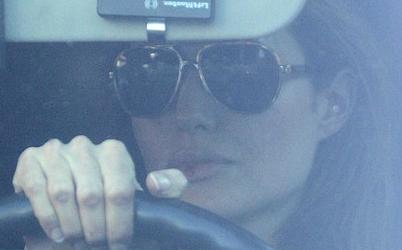 The actress apparently made a dash from New York where she was filming her latest movie, Salt, to keep an eye on Brad.
A source revealed: "She missed Brad but also wanted to make sure he wasn't getting up to no good. He'd looked forward to some time on his own but unfortunately it came to an abrupt halt."
The report comes amid claims Brad, 45, has been meeting with lawyers as his relationship with Jolie continues to crumble.
"Brad is totally done with the stress of feeling miserable and is taking steps to get his life back on track," a source told the National Enquirer.
"He realizes that he's happier alone, when Angie's not around to criticize him and wear him down with her constant demands."
"It's only when he gets to enjoy his own company that Brad gets to see things clearly and in proper perspective.
"He's been meeting up with his buddies as well as his lawyers, to get all the options that are available to him in the event of a permanent split.
"And thankfully he has a terrific support system in L.A., so he gets great comfort from pals who are there for him at all hours of the day and night."
Comments
comments