Angelina Jolie dons sunglasses as she leaves the set of Salt, flanked by bodyguards and aides on Wednesday (March 11) in New York City.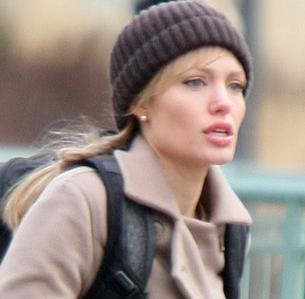 The 33-year-old super mom took a break from her blonde wig after shooting multiple film scenes down in Washington D.C.
It was recently reported that E! Entertainment TV donated $250k to the Jolie-Pitt Foundation last year. The contribution was one of four donations, including Brad and Angie themselves as well as Jerry Weintraub, the producer of Ocean's Eleven.
E! may have thought they could gain something by playing nice with Brangelina, whose star power probably attracts more viewers in an hour than E! drums up all week. But recent events would indicate that, if it was their motivation to suck up for a little extra camera time, it didn't work. Angelina has a history of snubbing Ryan Seacrest at red carpet events, actually going out of her way to avoid E! news stations at the Oscars. And this was in 2009.
In total, Brad and Angelina gave away $3.4 million last year. Beneficiaries included Pitt's Make it Right Foundation in New Orleans, three UN-based organizations working in Darfur, Children's causes in Cambodia, and the Maddox Chivan Children's Center, named after the first child Jolie adopted.