Anne Hathaway couldn't hold back the tears as she received the dual honor of Best Actress at Thursday night's VH1 Critics Choice Awards. But one lady who looked less-than-impressed was fellow nominee Angelina Jolie.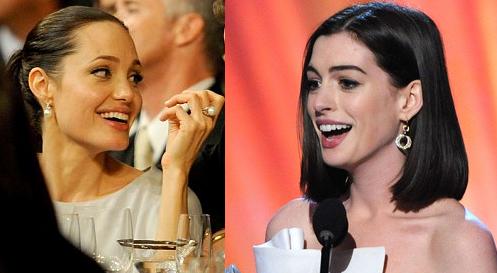 As Hathaway gushed about how thrilling it was to win something with her "idol" Streep, the cameras caught Jolie (twice) with such a severe scowl it caused quite the gasp backstage.
Let's put it this way: if looks could kill, Hathaway would definitely be dead.
An eyewitness revealed:"Angelina didn't say much for the rest of the night. She was all smiles before the announcement, and it was clear she wasn't happy."
For a the world's highest-paid actress, one would think Angelina Jolie would have found it an appropriate time to use her skills to hide those feelings of disappointment.
But back to Anne, this certainly isn't the first time film critics have managed to trigger a tear or two.
She said: "I cried it with joy the first time I got a good review from the New York Times. I cried with joy because it took forever and I had to memorize it. They said my performance from 'Becoming Jane' was a triumph, and I felt so happy, because I'd never gotten a good review from them, so I cried and cried. Then the bad ones, well you try to learn from them. Sometimes you're even ballsy enough to disagree with them."
Anne Hathaway received her highest acting praise to-date with her role as a tortured rehabber in "Rachel Getting Married," but she insisted that she never lets the turmoil of her personal life and her break-up with jailed beau Raffaello Follieri to influence the characters she plays.
She continued: "I think it's dangerous to use what's going on in your personal life, it's destructive and misleading because most of the time they have nothing to do with each other," she said. "As an actress I love being able to leave my life behind."
But despite the scandalous split, the 26-year-old couldn't be better.
She added: "I'm a pretty happy person even in critical moments. How could I not be? I'm truly blessed and loved in my life."
Comments
comments