Zac Efron is currently dating "High School Musical" co-star Vanessa Hudgens, but he still remembers his first kiss. The actor even doesn't mind talking about the girl who ever kissed him.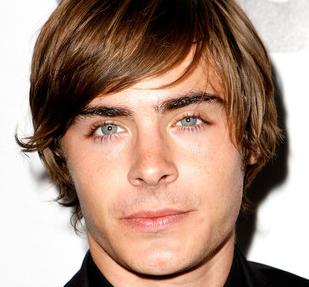 When was your first kiss? He revealed: "I want to say I was in fifth grade. It was in a tree fort. It was over a game of Truth or Dare, but it turned into "make out with the other person." I was like the only boy and there were a bunch of girls up there. I was pretty stoked."
Who's your celebrity crush? He replied: "Growing up, it was Tyra Banks. She was the first poster I had on my wall. I had it on my ceiling! And I had a bunk bed, so she was, like, really close. It was the famous purple bathing suit shot."
What's the girl fashion trend that confuses you? He answered: "That confuses the heck out of me? Hmmm…oh my gosh, there are so many."
What's the chick flick you secretly love? He said: "Sleepless in Seattle. I love that movie. I saw it when I was younger and thought it was really cool."
What's your TV guilty pleasure? He responded: "Probably Survivor. Or I have to say American Idol."
Who would play you in the movie version of your life? He revealed: "Pierce Brosnan."
What's your dream job? He shared: "Design and test video games; or I'd just play poker."
If you could trade places with anyone in the world for one day, who would it be? He continued: "Queen of England. Why? No idea."
Who in your family are you closest to? He said: "My little brother."
What's your favorite Website? He replied: "Ebaumsworld [site]"
What's the fast food you can't live without? He answered: "Western Bacon Cheeseburger from Carl's Jr., or In-N-Out."
What's your worst habit? He responded: "Sometimes, especially when it's cold, I get dry skin, so I scratch a lot – like, I scratch my arms and stuff and it's incessant."
What's the last song you listened to on your iPod? He shared: "Boston" by Augustana.
What's the last thing you bought? He answered: "Newsweek magazine."
What did you dream about last night? He explained: "I didn't have any dreams because the hotel room was disgustingly hot. It was like 90 degrees – the AC was broken."
What did you dream about last night? He said: "I didn't have any dreams because the hotel room was disgustingly hot. It was like 90 degrees – the AC was broken."
Fill in the blank: When I was 17, I was ____________. He added: "Younger."
Comments
comments