Angelina Jolie treated daughters Shiloh, 3, and Zahara, 4, to a shopping spree at a Toys R Us in Burbank, Calif., Tuesday.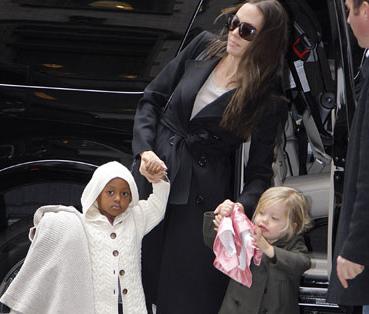 "Shiloh and Zahara are extremely polite and well-behaved, and Angelina is really natural and down to earth," according to X17online. "They bought tons of toys and looked around for about an hour before checking out. They bought stuff for girls and boys."
Where was papa Pitt?
Across the world, promoting his new Quentin Tarantino flick, Inglorious Basterds in Berlin.
At the film's premiere, the Tom Ford-clad star joked to reporters, "It's so tough being an actor. Sometimes they bring you coffee, and sometimes it's cold, and sometimes you don't have a chair to sit on."
Pitt also teased that his partying days have tamed down since becoming a father of six.
"I'm a dad now," he told London's Daily Mail, "my partying ends at 6 p.m."
Comments
comments