In the weeks since Michael Jackson's death, fans have seen his father Joe on the red carpet, at Michael's memorial and even in interviews – but not until now has he shown the anguish of a father who has lost a son – and, as he believes, gained a grandchild.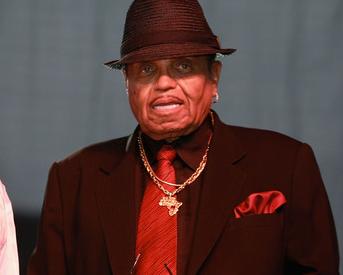 NewsOne Chief Content Officer, Smokey Fontaine, sat down for two hours with Joe, who said the King of Pop's memorial was difficult for him.
"I woudn't go and see him laying up in the casket. I did not want to remember him like that," Joe said, getting emotional. "I wanted to remember him… alive and dancing on stage… He's my son."
According to Smokey, the interview showed Joe's softer side – and explained why Joe hasn't shown it before.
"I saw a grieving man," Smokey told Access Hollywood. "I saw a man whose pride didn't let him reveal the hurt he had inside."
But amidst his grief was a happy moment – the revelation that he believes Omer Bhatti, the young man who sat with the Jacksons at the memorial, is Michael's son. According to reports, Omer, 25, spent time at Michael's Neverland Ranch and was close with the late musician, and has been rumored to be the star's illegitimate son, a claim Joe seems to believe. Bhatti has reportedly denied that Michael is his father.
"I knew that he had another son," Joe said. "Yes I did. He looks like a Jackson, he acts like a Jackson, he can dance like a Jackson."
Previously, Ricky Harlow, a musician whose band was signed by Michael to his label in the mid-'90s, told Access that Omer's connection with the pop star was "an affectionate, loving type of relationship."
"He imitated Michael in every possible way," Ricky previously told Access, explaining that Omer and his family lived at Neverland at one point. "I definitely felt that even if it wasn't really Michael Jackson's son, Michael Jackson treated [him] as if he really was his son."
Comments
comments