She is arguably the most recognizable woman in the world but Angelina Jolie has a number of new looks for her latest role as a rogue CIA operative who is a master of disguise.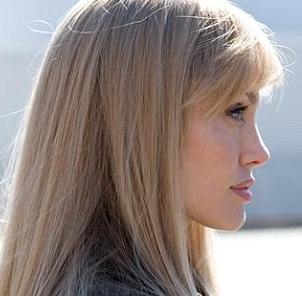 In promotional shots for Salt, which begins filming in New York today, the 33-year-old actress models two wigs, one dark brunette and the other blonde.
Both have sleek fringes that frame her trademark pout and are among the many stylish appearances Jolie's Evelyn Salt has in the film.
In the dark wig Jolie looks like a raven-haired femme fatale who could easily be concealing a weapon or two; in the other she is a soft-looking, all-business blonde.
Filmmakers say the central mystery of the movie is the true identity of Evelyn
Salt.
Producer Lorenzo di Bonaventura revealed: "She's a character you never know. People who think they know the real her may or may not. Those who think they can tell whether she's in a disguise also may or may not."
The film was initially called Edwin A. Salt and was set to star Tom Cruise. But the script was rewritten once Jolie expressed an interest.
The actress, her partner Brad Pitt and their six children are moving into a new home for the duration of the shoot – a £40million mansion on Long Island's Gold Coast.
The sprawling waterfront property has a swimming pool, a private cove, two helipads, a private dock, gym, barbershop, elevator and fallout shelter in case of an emergency.
The 48-acre estate has 25 rooms, including eight bedrooms and 12 bathrooms.
Comments
comments