Shiloh, the biological daughter of Angelina Jolie and Brad Pitt, has been front and center on the cover of a magazine in a story that suggested that her mom and dad keep her under wraps to keep her safe from the dangerous world that is lurking around her.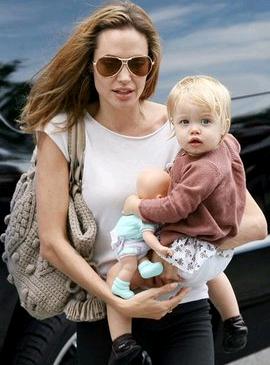 The baby has been previously called a 'blob' by her mother and now has been deemed an outcast in her own family, according to a report.
According to a report, the security for their kids is pegged at about $5 million per year. Although the "Mr. & Mrs. Smith" couple want their kids to lead normal lives, above all else they want to keep them safe.
The insider revealed, "Brad and Angelina love their children to death and they'll do everything they can to protect them. The couple has paid $5 million this year to protect themselves and their kids, $2 million more than in 2006."
The report indicates, "The breakdown have increased the security at both of their California homes – they have at least 12 men at each of those properties. Each home has a special security room, where someone monitors the property 24/7."
Still that didn't keep the "Good Shepherd" actress from taking a shot at baby Shiloh in a recent interview. The actress commented on her adorable little baby Shiloh, "She looks like Brad. It's funny because she's almost going to be the outcast in the family because she's blonde and blue-eyed. I felt so much more for Madd, Zahara and Pax because they were survivors. Shiloh seemed so privileged from the moment she was born. But I'm conscious that I have to make sure I don't ignore her needs, just because I think the others are more vulnerable."
Comments
comments