Jon Voight is playing the villain this season on the Fox hit TV show 24 but in real life the claim is that the father of Angelina Jolie has become a confidante of sorts for his daughter.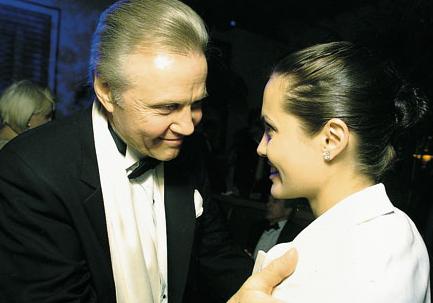 While reports have stated that Jolie's live in lover Brad Pitt uses his ex Jennifer Aniston as a phone call pal to discuss things, this wild claim says that things are so tough with Brad and Angie that she is turning to her father for help. Jolie cut her pop off years ago after a very public battle on the state of Jolie's mental health.
According to a report, "That sudden dark could over Angelina Jolie's relationship with Brad Pitt just brightened the horizon for dad Jon Voight. Even though lines of communication between long-estranged father and daughter had been cautiously reopened, there's still lots of awkwardness – but now Angelina's phoning Voight constantly, crying on his shoulder that Brad's blaming her for neglecting him in favor of their kids and her career.
A source said: "Angelina wailed to her dad that Brad says their relationship is splitting at the seams because he wants to be her partner in life, not just the father of her children."
The report adds that ironically, Angelina's romance woes have opened the door to a stronger relationship with her dad, insiders say. And even though Voight's concerned, he's elated that his daughter's back in his life. He's telling pals he'd love to see Angie and his grandkids, but will let her move at her own speed because he doesn't want to push her away.
Comments
comments