Angelina Jolie has reportedly been urged by Hindus to help the Roma people in Europe.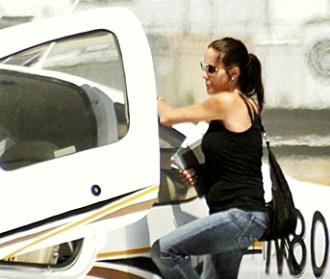 The 34-year-old actress, who is Goodwill Ambassador for the UN and is known for her charity work, would be "very effective" in helping to raise awareness of the Roma apartheid, according to statesman Rajan Zed.
Zed, who is the president of the Universal Society of Hinduism, said in a statement in Nevada that he believes the actress could highlight the issue as other high-profile figures have done for South Africa's apartheid.
Zed added that Jolie had helped promote many humanitarian causes across the world and Roma would be the next cause for her to help with. He also offered his services to the actress if she needs it for the Roma cause.
The condition of the Roma people has been an issue in Europe as the people have faced social exclusion, racism, substandard education, hostility, joblessness and rampant illness among other issues, according to Zed.
Meanwhile, Angelina Jolie disembarks her private plane with her children Shiloh, 3, and Zahara, 4, after a completed flight on Friday in California.
Looks like Angie, 34, gave her two daughters a ride in the sky. What a cool mom!
The trio took off from Bob Hope Airport and flew for 24 minutes before landing at Big Bear City, about 100 miles east of Burbank. They flew to approximately 10,000 feet in the air!
Comments
comments