Angelina Jolie, Victoria Beckham and Anne Hathaway have designed jewelry for an auction featuring celebrity memorabilia that will benefit the Prince's Trust and other charities.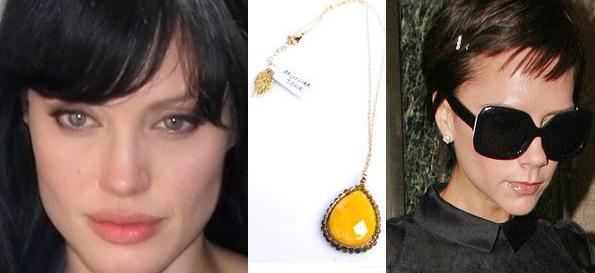 Kate Winslet, Jennifer Lopez, Penelope Cruz and Ricky Gervais have also designed jewellery or added autographs to the collection, which will be previewed at auction house Bonhams in New Bond Street, London next Tuesday.
Following the display, the exhibits will return to New York before being auctioned at Bonhams and Butterfields in Los Angeles on May 28.
Half of the proceeds of the auction, which is being organised by Los Angeles-based charity auction campaign Stars For A Cause, will go to charities chosen by the participating stars.
The other half will go to the Prince's Trust, which helps young people develop confidence, motivation and skills to find work.
Other jewellery items include designs from Charlize Theron, Goldie Hawn and Miley Cyrus, while Sir Ben Kingsley has designed a pair of cuff-links.
Also up for auction are a Balthazar and Methuselah of Moet & Chandon champagne signed by Colin Farrell, Susan Sarandon and Gervais as well as limited-edition posters for the Golden Globe Awards autographed by Brad Pitt, Jolie, Tom Hanks, Sigourney Weaver and Winslet.