Jennifer Aniston enjoyed some candy yesterday (April 30) during quick break from filming on the set of her new movie, The Baster.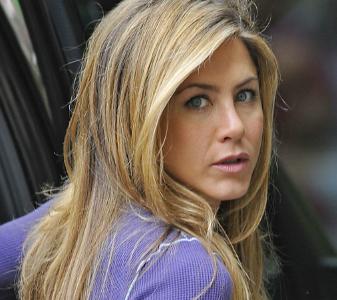 The Friends star clutched a parka jacket as she moved between film trailers in New York. She looks pretty in purple as she arrives to the set of her new flick, The Baster, in New York City.
The 40-year-old former Friends star appeared in good spirits and smiled for photographers!
She later donned the coat for a scene involving co-star Jason Bateman, who plays Jen's love interest in the romantic comedy.
She went with a sporty outfit yesterday with a tank-top and red training pants. The day before, she wore a backless dress and turned into the "lady in red"!
The Baster, which is due to be released in 2010, has been adapted from a novel of the same name by Jeffrey Eugenides.
The movie tells the story of a single mother whose best friend is harbouring a life-changing secret – he's the father of her child.
Actors Thomas Robinson and Jeff Goldblum are also expected to appear in the movie.
Comments
comments