A television advert for the DVD release of Angelina Jolie's film Wanted has been banned for "glorifying" gun use.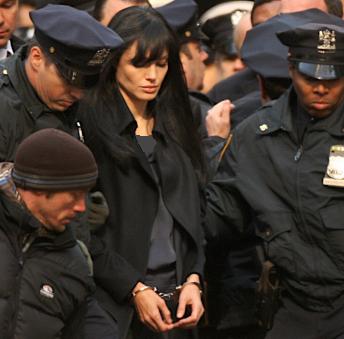 The Advertising Standards Authority (ASA) ruled that the commercial gave the impression that "using guns was sexy and glamorous".
Makers Universal Pictures have been told the advert cannot be shown again in its current form, and is unsuitable to be seen by older children.
One complaint from a member of the public was received by the ASA.
The complainant said the promotion glamorized guns and claimed it was unsuitable to be shown early on a Saturday morning when children were likely to be watching Unsuitable.
The ASA noted that the advert for the 18 certificate movie was not allowed to be screened when younger children were likely to be watching. But the watchdog ruled it was unsuitable for older children as well.
Universal said it had not been broadcast at unsuitable times, and did not contain any contentious material.
They added that other action releases which contained guns and high-speed chases had been advertised as "the coolest movie of the year" and not prompted any complaints.
The company also felt there was an objection to a woman in an action lead role, rather than concerns about violence.
Clearcast, the company which approves TV adverts for broadcasts, said they believed viewers would be able to distinguish between weapons in a fantasy setting and the reality of urban gun crime.
In September, posters advertising the film were banned by the ASA, which ruled its images and text glamorized the use of guns.
Wanted was released in UK cinemas last June and entered the box office chart at number two with takings of more than £3m.
Meanwhile, Angelina Jolie is seen getting arrested, escorted away in handcuffs by New York's finest on Tuesday (March 10) along Park Avenue in New York City.
The 33-year-old actress was shooting new scenes as raven-haired femme fatale Evelyn A. Salt for her upcoming spy flick Salt.
Salt is a CIA officer who is fingered as a Russian sleeper spy. Costar Liev Schreiber plays Salt's boss and friend on the Russian desk at the CIA. Salt is out in 2010
Comments
comments