Katie Holmes radiates an undeniable glow and her face appeared to be fuller and after weeks of speculation, sources said that Katie Holmes is expecting second baby.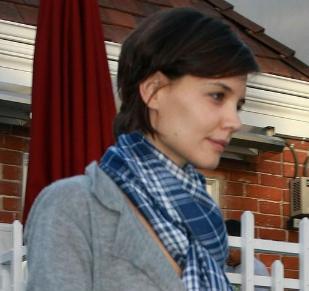 A family friend said: "They are deliriously happy that Suri will be a big sister."
Another source added: "They've always planned on expanding their family. They're over the moon."
The new addition, however, remains a secret. Katie, 30, and Tom, 46, have shared the news with only a small group of friends and family, preferring to wait until she's at least three months along before going public.
But many observers have already noticed some signals, in particular when the Cruises appeared at the March 11 Tokyo premiere of Tom's movie Valkyrie. Katie looked stunning in a Jason Wu dress and billowing hair extensions.
Meanwhile, Katie Holmes was spotted as she made a stop at Beverly Drive's Urth Cafe on Tuesday (March 17) to pick up some treats on St. Patrick's Day in Beverly Hills, California.
The 30-year-old actress is currently shooting scenes for her new movie, "The Extra Man", with co-stars Paul Dano, John C. Reilly and Kevin Kline.
Comments
comments