Angelina Jolie is reported to have told a young star of the film Slumdog Millionaire that she hopes to adopt an Indian child.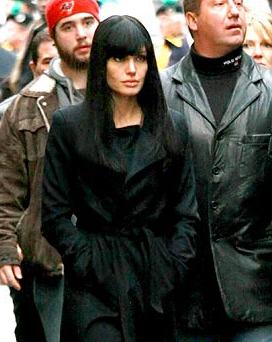 Azharuddin Mohammed, 10, asked the Hollywood star at last month's Oscars if she planned to bring up an Indian orphan.
According to a report, Jolie replied: "Well, I'll let you into a little secret, we will soon."
The 33-year-old met child actresses Azharuddin and Rubina Ali, nine, backstage in Los Angeles after Slumdog Millionaire scooped eight Oscars.
Jolie and her husband Brad Pitt, 45, already have three adopted children – Maddox, eight, from Cambodia; Pax, five, from Vietnam and Zahara, four, from Ethiopia.
The couple have three children of their own – Shiloh, two, and eight-month-old twins Vivienne and Knox.
The disclosure is not the first time that Jolie has indicated an interest in adopting a child from India.
In November 2006, the couple visited an orphanage in Pune, India's eighth largest city, where they spent more than an hour meeting children and handing out toys.
The news comes in the same week that the singer Madonna appeared in court in Malawi in an attempt to adopt a second child from the impoverished country.
The 50-year-old star filed papers in the High Court in Lilongwe, the capital, to adopt Mercy James, 4, whose 18-year-old mother died soon after she was born.
She is touring the country with her three-year-old son, David Banda, who she adopted in 2006.
Comments
comments