When Angelina Jolie adopted Zahara in 2005, she was told that the tot's biological mother was dead even though she was actually alive and well in Ethiopia.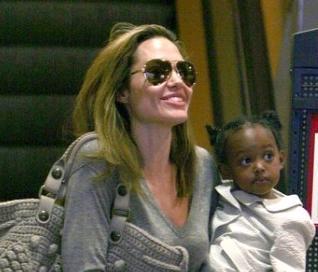 It has been discovered that not only is Zahara's mother, Mentewab Dawit Lebiso, alive and fit, but that the man who arranged the baby's adoption has been promoting a campaign of threats and intimidation against her family.
When Girma Degu, the man who arranged the adoption for the agency, came to know that Mentewab would be talking to journalists, he threatened to have one of her sisters jailed, according to a report.
Her mother Almaz Elfneh had already been introduced to Girma by her sister- in-law and he agreed to take the baby after the Kebele gave its consent, saying, "Girma took the baby to Addis Ababa. He promised he would keep in touch. He said he would bring back the baby to visit after five months and he would send me a picture. He also promised to introduce me to the family that would adopt her."
Almaz also revealed that she never told Girma or the authorities that her daughter had died, adding, "But then Girma came to me and told me that the baby had been adopted and taken abroad. He said there will be journalists coming to you and you must deny the whole story and say it is not your granddaughter."
After stories first began to circulate two years ago that Zahara's birth mother was still alive, Almaz says a furious Girma dragged her to the local council offices and accused her of lying.
He also tried to force her to say that Zahara was not her granddaughter. He brought this woman who claimed Tena Adam was her daughter. He tried everything to get me to say that it's not my granddaughter. He even threatened that he'd put me in jail and have me tortured."
Dr Tsegaye Berhe, head of the agency in Ethiopia, revealed he had been told Zahara's mother was dead at the time of the adoption and had the official papers to prove it. He said, "We have to trust the documents we received. She (Almaz) has signed, three witnesses have signed, but the document is saying something different to what she is saying now. She said her daughter had died."
He added that he had asked the government to instruct Ethiopian police to investigate whether the grandmother had lied to the Kebele.
Dr Berhe claimed that he had the paperwork that was signed by Almaz and three other witnesses testifying that Zahara's mother had died.
However, Almaz said: "I cannot read or write. I don't know what they wrote but what I said was that my daughter ran away, not that she was dead."
But the adoption agency says it makes efforts to establish links between the adoptive parents and the child's family.
Dr Berhe said he always arranges for the adoptive parents to go to the village to meet surviving family members, "take pictures and videos and even have some correspondence".
Yet, according to Zahara's birth family, Angelina has never visited their home in Awassa.
Angelina Jolie was unavailable for comment.
Comments
comments