Angelina Jolie, who recently appeared at the Cannes Film Festival, showed a figure, which the tabloids are beginning to wonder if the actress is trying to join the size zero club.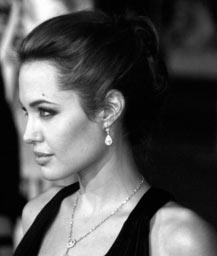 According to James Haven, Angelina's skinny frame is the result of her tiring work schedule and the death of her mother. He revealed, "She exhausts herself and at the moment she has a very low resistance level because she misses our mother so much and just longs for her all the time."
He added, "Angie visited Ethiopia and it changed her life. When she's there, there's often no food for her and she goes without. She's become used to periods of very little or no food so she has a much smaller appetite and a different attitude to it."
However, her appearance at Cannes left people shocked at her tiny frame. One source revealed that even Angelina's family is concerned.
The insider revealed, "She's looking too skinny. People are wondering if she's anorexic. She was the most beautiful woman in the world, but now she looks sickly."
Comments
comments