Long before Twilight made a global heartthrob of Robert Pattinson, Angelina Jolie was trying to drink her boyfriends' blood, it's claimed.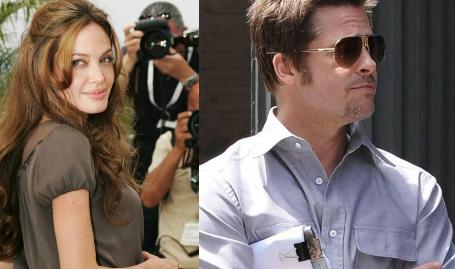 Following on from the revelations the actress is to be the subject of a number of planned tell-alls, tabloid 'sources' are clamoring to dish on her deepest, darkest "secrets."
And they don't get much darker than her alleged bloodsucking tendencies.
"She was always asking her boyfriends if she could taste their blood," a source tells Star. "She even wanted to become a mortician."
Angelina, of course, has often talked about her fascination with knife play, and she and ex-husband Billy Bob famously wore a sample of each others' blood around their necks during their relationship.
Another source claims that in school, "people called [Angelina] Spider Lady and Freak because she was so thin and pale and she only wore black. She was the outcast. She was far from popular."
Meanwhile, Brad Pitt waits for his Chrysler 300 car at a parking garage in New York City on Friday (May 15).
The 45-year-old Mr. Mom and Angelina Jolie have been staying at Oyster Bay on the North Shore of Long Island while Angie shoots her new movie, Salt.
People reports that Brad's daddy duties include dropping the kids off at school and even reading books to the children in daughter Shiloh's class.
"[The parents in town] are off the charts excited and everyone is dolled up, " one local reveals. "The moms are trying to look a little bit more polished. Instead of schlepping in sweat pants and messy hair, now they wear designer jeans and high heels, which they never wear. Usually it's Tod's or Gucci loafers. Everyone is putting a little more effort. Let's face it – he's a handsome guy."