Miley Cyrus says music is the perfect way to cope with heartbreak.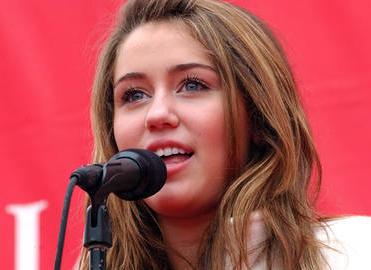 The "Hannah Montana" actress tries to lose herself by listening to her favourite songs when she wants to forget about her problems.
She said: "I think an iTunes playlist is always good to mend a broken heart. Turn on your stereo and escape, that's what I have to do sometimes. After a long day, it's like kind of ignoring everything and I guess feeling the artist playing, listening to their music and becoming one with that. That is one of those things, when you are in love with someone all you do is listen to love songs all day, then, when you are dumped, your parents are like, what's that thumping rock and roll upstairs.
"I think it would be great if you were upset and listened to a happy song to make you smile again, or a sad song to just kind of deal with that pain for a while."
The 16-year-old star – who is currently dating underwear model Justin Gaston – also says it's good to stay in contact with ex-boyfriends and she is still on good terms with former love Nick Jonas.
She said: "I don't think people know how to make an ex-boyfriend a best friend, it's impossible. But when you have known each other as long as we have, and we did have a great relationship, that you know, right now we are best friends."