Angelina Jolie's adopted son Maddox celebrated his birthday with a two-day, boys-only party at the weekend.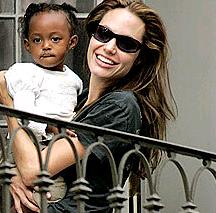 The birthday boy was joined by a group of young friends for a military-themed party in the garden of Brad and Angelina's oceanfront home in Santa Barbara, California.
Maddox and his young friends were all dressed in army combat uniforms and had camouflage make-up painted on their faces as they enjoyed action-packed activities including water pistol fights and pelting each other with water bombs.
Brad Pitt also joined in the fun wearing an army outfit and helmet.
Maddox is the oldest of the couple's four kids.
Earlier this week, it was revealed Brad, Angelina and Shiloh will appear on a new Australian stamp.
A picture of the celebrity couple and their youngest daughter has been made into a 50-cent stamp.
Comments
comments