Angelina Jolie takes a break on the set of her new movie Salt to enjoy a slice of chocolate cake for a crew member's birthday on Sunday (May 24) in Queens, New York.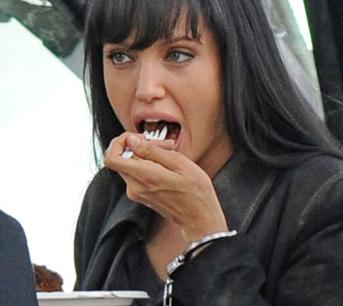 The 33-year-old actress is back in New York as she continued filming for the new movie over the weekend. The set is full of NYPD cop cars as it's being filmed right off the Queensboro bridge.
The previous day, Miss Jolie was also busily at work the previous day – having just returned to the Big Apple following a short trip to southern France.
Angelina made the overseas excursion to support partner, Brad Pitt, at the 2009 Cannes Film Festival as he premiered his new Quentin Tarantino led film, "Inglourious Basterds".
In the movie, Angie plays CIA spy Evelyn Salt who tries to clear her name after being accused of being a Russian sleeper spy.
Comments
comments