Angelina Jolie is causing concern on the set of her new film Salt with a crazy diet called liquid detox.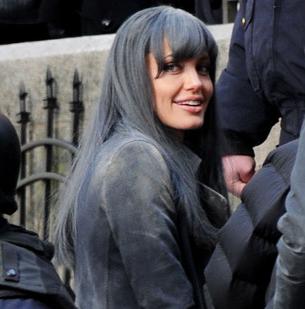 She aims to shed 21lb in just 21 days for her role as a CIA officer unmasked as a Russian spy.
But Ange is raising eyebrows as everyone thinks she has a fantastic figure.
The diet — living on a mixture of lemon juice, cayenne pepper and maple syrup — is leaving her weak.
A source said: "She does all her own stunts but we worry she could injure herself due to the weight loss."
Meanwhile, Bond producers are looking at reuniting Daniel Craig with his Tomb Raider leading lady Angelina Jolie in the next installment.
A source advised them Jolie "met with Bond producers over the weekend, expressing her interest in joining the franchise. The only hitch, Angelina would be a reoccurring character, instead of just appearing in one movie. With her Tomb Raider franchise dead, and being killed off in Wanted — Angie seeks a solid financial property to revisit every few years. An easy payday indeed! Bond producers Michael G. Wilson and Barbara Broccoli are very eager to have Angie on board.
It was rumored that Jolie had been offered the role of Vesper Lynd in Casino Royale but dropped out due to her pregnancy and schedule. Reports at the time suggested Jolie wanted Vesper "toughened up" before she would agree to accept the role, and that she'd "rather play a baddie than eye candy."