Angelina Jolie became the latest celebrity to have a doll with extremely accurate resemblance from the bee-stung lips and perfectly arched eyebrows to the tiny mole on her forehead.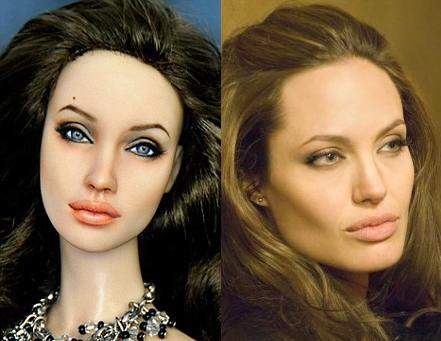 How to make Angelina Jolie's lifelike doll? Starting with an ordinary doll, artist Noel Cruz first removed the factory paint, then re-touched the face with acrylics to capture the actress' features.
To complete her look, the creative artist fitted the doll with a long brown wig and added a glamorous dress.
How much the doll could cost? According to a report, an anonymous bidder parted with £2,000 on internet auction site eBay to buy the doll.
Noel Cruz, who specialises in painting dolls to look like celebrities, admitted that there was just one detail missing: Angelina Jolie's famous tattoos.
However, the dolls could also be painted at an extra cost of between £10 and £20, depending on the complexity of the design. Despite the skill involved in painting the doll, it earned a lot of criticism in an online forum.
One comment indicated: "The Angie doll is pretty realistic and creepy. I think the doll's arms are still fatter than Angie's real arms."
Another said: "Wow, who purchased this? They must have money to throw away. I can see why someone would want to get their child an Angelina doll, but I couldn't let my child break the arm or even get the doll dirty."
Mr. Cruz, who is the artist of the doll hailed from the Philippines, was inspired to turn his talents to dolls when he was looking for one to add to his wife's collection.
Comments
comments