They appeared to have the perfect relationship but Angelina Jolie and Brad Pitt seem to have hit their first rocky patch.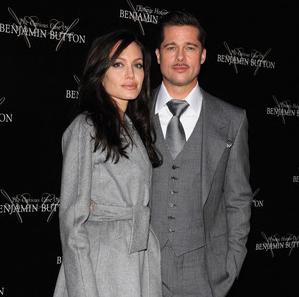 Sources on Angelina's new movie, Salt, say she is exhausted and is barely seeing Brad and her children – who have moved from LA to New York, where she is filming, to be closer to her.
Relations between Angelina, 33, and Brad, 45, are understood to be so strained that she is living alone at New York's Waldorf Astoria Hotel, while he and their six children are renting a house nearby.
Angelina's tiredness and a dramatic weight loss are concerning Brad and her producers.
A source revealed: "Brad and the kids have barely visited the set and Angelina seems very insular. She's staying on her own, working 15-hour days and the stress is taking its toll. We're all very concerned."
The source added: "She's on a liquid detox diet to lose 21lb in 20 days. She is doing all the stunts herself and barely has time to eat. She is looking so small on camera, the producers have had to have a discreet word."