Prince William, 26, joined the Middletons on their annual skiing trip to Meribel earlier this month and it was believed his upgrades on the outward BA flight to Kate's parents.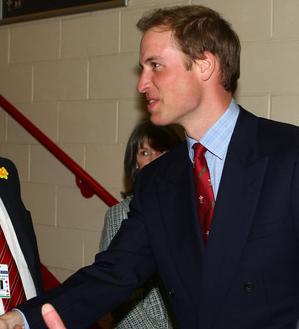 Passengers on the flight to Geneva report that Prince William gave his free upgrades to the First Class section to Mr. and Mrs. Middleton and instead sat in economy with Kate.
A source revealed: says: "Wills had lined up a trip to Klosters with his mates but he decided at the last minute to go to the Three Valleys with Kate and her parents. It was a big step to be invited into the family fold and shows how serious he and Kate have become. They are very happy together and Kate loves the fact that now he's in the RAF, she sees much more of him."
When the 26-year-old prince flew off to Courchevel for a skiing holiday with his girlfriend Kate Middleton and her family earlier this month, it went unreported that the second in line to the throne sat among the economy passengers on the British Airways Heathrow to Geneva flight.
The courtier revealed: "There was a security presence, but it was all very low-key and William sat with Kate, her sister Pippa and a group of friends among the other passengers. I think a lot of people on the flight didn't even realize who they were. William actually hates having a fuss made of him when he travels and said that he found it a lot more relaxing than having the cabin crew all nervously hovering around him at the front of the aircraft."
This was believed to be the first occasion that the prince had sat in economy, but, even so, the trip garnered some unwelcome headlines for him because he had to break into his 16-month course at the Defence Helicopter Flying School – funded by the taxpayer to the tune of £800,000 – to take the holiday.
Meanwhile, Prince William came down to visit at Guy Ritchie's pub the Punch  Bowl on March 26.
Guy, Wills and chum Guy Pelly enjoyed a boozy night out at the recently divorced film director's Mayfair bar.
And when the bleary-eyed trio stumbled out at around 1am Wills and his pal headed on to West End nightclub Whiskey Mist.
Comments
comments