Angelina Jolie and Brad Pitt took a 45 minutes helicopter ride to the Hamptons last Friday.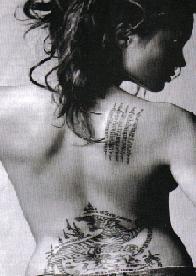 The pair took helicopter ride to host a dinner of about 50 people that will benefit the victims of Hurricane Katrina, saving themselves 3 hours of driving and inadvertently revealing to the world the complex artwork on the prolifically tattooed Angelina's back.
The event was held in the Hamptons on New York's Long Island.
A source revealed that the helicopter ride was a "logical" way to get to the party on time, revealing, "They didn't want to make the long trip by road so this was the logical way to get to the party on time."
The venue of the party was the home of producer Jane Rosenthal and her husband Craig Hatkoff. Christie Brinkley, Ellen Barkin and Jimmy Buffett were among the guests.
The fund-raiser helped promote Pitt's Make It Right project, which is aiming to rebuild areas of New Orleans' Lower Ninth Ward with environmentally friendly homes.
You could see the her photo here
Comments
comments