Angelina Jolie, who previously talked about her kids and provided marriage hints, headed overseas as she went to Afghanistan on her first post-twin trip to a UNHCR operation.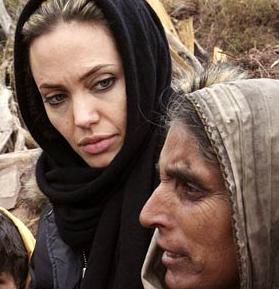 The UN Goodwill Ambassador is there appealing for more support for Afghan refugees who are returning home. She concluded her trip on Thursday.
The Oscar winning actress , who was a Goodwill Ambassador for the UN's refugee agency, spent Wednesday and Thursday of this week touring Afghanistan for the first time to meet and talk to former Afghan refugees as they attempt to reintegrate themselves into the country they once called home.
Angelina Jolie revealed: "The courage, resilience and quiet dignity of returnee families rebuilding their lives against the kind of adversity few of us can imagine shows the human spirit at its best."
On Wednesday, the Oscar-winner visited the Nangarhar province in eastern Afghanistan, home to 20 percent of those who have returned since the Taliban was removed from power in 2002. On Thursday, the actress traveled to the capital city of Kabul, where the population has tripled in recent years, causing massive problems with the city's ill-prepared infrastructure.
Angelina Jolie explained: "Afghanistan has been struggling to absorb these massive returns. It's understandable. It's one of the largest population movements in recent history."
Comments
comments