Angelina Jolie has reportedly requested last minute changes be made to the script for Salt so she won't risk her chances of falling pregnant, it's claimed.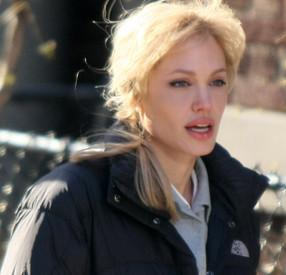 The mum-of-six is said to have purposefully requested that the film scale down its action scenes in a bid to to stay in tip top condition – so she and Brad Pitt can try for baby number seven.
A source tells the Mirror, "There is still some exciting action stuff – most notably a scene where Angie's character is chased by snipers over rooftops.
"But there's no back-flips on speeding trains, and it's all more face close-ups rather than action sequences.
"Earlier versions of Salt could not be shot with a woman in the early stages of a pregnancy. But the draft they're now shooting can."
As a result the film – which follows CIA agent Evelyn Salt as she attempts to clear her name – looks set to fall short of Angelina's previous action-packed project Wanted.
Comments
comments