David Cook has interview in an article of Finnish magazine called MeNaiset. The magazine indicated that he won the American Idol, sold more than a million albums and made friends with his own idol.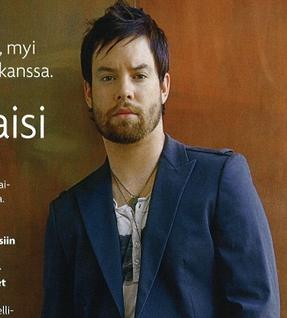 Here are the highlights of his interview:
When an "ordinary guy" becomes American Idol, life goes upside down. How has the last year changed you?"I see things in a wider scale now. I used to play in a band and work as a bartender in Tulsa. I was quite happy with my life but now everything is larger (Viivi: bad translation sorry) The most special experience of the year was to go to Iraq and play with the band to the soldiers. That was cool.
You got to make songs into your album with our own idol, Raine Maida from our Lady Peace. How did you react when you heard about that opportunity?"I was terrified! I was scared that everything would go wrong or that he would be a jerk (Viivi: I really don't believe David would say like that)But everything was great and I consider him as a friend now. I call him sometimes and we go to play golf, which is really weird. It's strange how things change. That's something to ponder about."
Rockers get chicks but how is it with Idols?"Hahaha! After I won AI I've had one girlfriend but now I'm single. I've spent all my life dreaming of being a rockstar and having women's attention and now, when I finally am a star I don't have time for dating. Quite ironic huh."
You tend to (superstitiously) write the initials AC of your brothers Adam and Andrew everywhere, as on your guitars. What is it about that?"AC is also written on my shoes and tattooed on my arm. I began writing it into my sports gear years ago as I first heard that Adam had a brain tumor. It's something to show my love for my brothers. That's how I have them with me everywhere."
What is the weirdest thing that has been written about you in the media?"That I was dead! I was, just in case, taken to the hospital because of high blood pressure during AI. My blood pressure just went high because of all the excitement in the competition."
You were not supposed to participate Idol yourself but you went to the auditions just to support your brother. If everything goes "that randomly" in the future, where will you be in ten years?
"I don't know. I would just like to be happy and maybe have a family. Before that, I just want to make better and better albums."
You have talked about winning Grammy and Oscar awards. Are you still aiming at those?"Absolutely. Too bad we were late for this year's Grammys. I would have wanted to be nominated. Well, maybe next year. I still would like to do acting, even if I'm a musician at the first place. But if the right thing comes along, I'll grab the chance."
Comments
comments